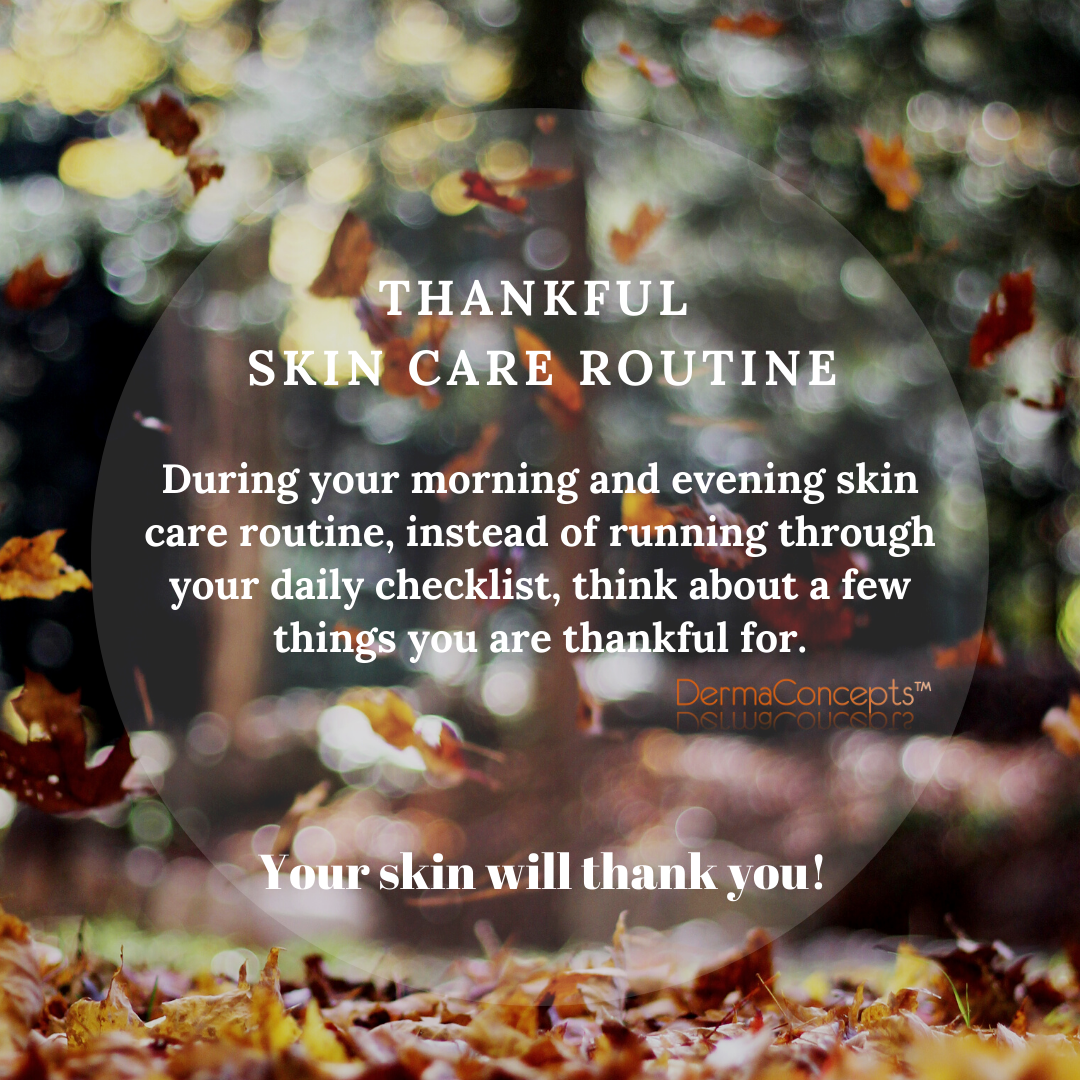 Thankfulness Reflects On Your Skin
Posted by Kim Beels on
According to researchers, having an attitude of gratitude can have a huge positive impact on your life — and it also does wonders for your complexion. Numerous studies have shown how positivity can lower stress, help maintain healthy hormone levels, and reduce inflammation, all of which are good for your skin.
Although it's not always easy to feel thankful, especially during this busy time of year when you have a mile-long to-do list of holiday errands, smile... think happy thoughts... and the rest will happen naturally!
TIP: During your morning and evening skin care routine, instead of running through your daily checklist, think about a few things you are thankful for.
To help you incorporate more gratitude into your life (so you can show up for every occasion looking and feeling merry and bright), here is a thankful skin care routine with research-backed tips, adopted from a story in Harvard Health Publishing:
You can project a positive radiance by:
Keeping a gratitude journal
One study compared three groups who were asked to journal every week about a specific topic: one group wrote about things they were grateful for; another journaled about daily irritations, and a third, neutral group was asked to write about things that affected them, either good or bad. After 10 weeks, the thankful group felt more optimistic and better about their lives. They also exercised more and had fewer visits to the doctor than the group that focused on sources of aggravation.
Thanking someone mentally or verbally
Don't have time to journal? Start thanking people mentally and verbally. Saying thank you helps you feel happier while also nurturing your relationships with others.
Counting your blessings
Any time of day or night, simply reflecting on the things you are grateful for will help you to lower stress, elevate your spirits, and boost your energy. It's simply a matter of habit. When you find yourself complaining, force yourself to think of one thing for which you are grateful. It's that simple!
Meditating
Gandhi knew what he was talking about. Mindfulness meditation involves focusing on the present moment without judgment. Research indicates that being mindful has mega health benefits, including reducing stress and anxiety, regulating your emotions, reducing chronic pain, improving sleep and gastrointestinal issues, and more.
Practice a thankful skin care routine
As skin care experts, we're focused on your skin health, of course! Taking care of your skin is more vital than ever during hectic times like the holidays. (We all know how much havoc stress wreaks on our skin!) So, maybe it's time to rethink your skin care routine. As you're gently washing off your day, it's a perfect time to reflect and take stock of all the things you're thankful for and let the stress go down the drain. Your skin will thank you for it!
From all of us at Environ, we wish you a happy and beautiful Thanksgiving!
To find an Environ stockist near you, call 877.337.6227.
---
Share this post
---
---