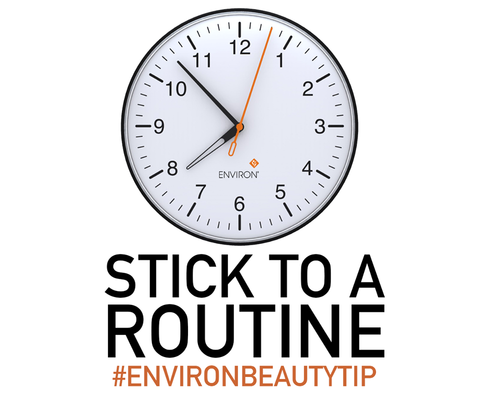 New Year, New You
Posted by Catherine Christianson on
New Year, New Look
The New Year is here! Now is the perfect time to assess our lives to make sure we're on the right track to reach our goals. There are research-tested tips that have been shown to help people more effectively reach their targets, and we want to share them with you. These tips can be applied to many areas of your life, but we will discuss them in the context of achieving healthier-looking skin. After all, the skin is our largest, most noticeable bodily organ, and it is what people notice when they first meet you.
Set Expectations
Nothing can crush a goal quite like unrealistic expectations. We all want to achieve the skin of Angelina Jolie or Halle Barry, but when choosing a skin inspiration idol, remember that you just want skin like them not a complete transformation. Any therapist will tell you that this first step of mental preparation is vital for your success!
Turn Your Big Goal Into Tiny, Smaller Objectives
Perhaps your big goal this year is to take care of your skin. In order to achieve this large goal, one must first break it down into smaller steps. After selecting your skin care brand, and I'm presuming you've embraced Environ, allow us to help you with the second step- establishing a basic routine. Creating an effective skin care routine really can be as simple as these 4 steps.
Cleanse
Your cleanser should gently help you remove dirt from the skin without stripping part of the skin's protective barrier. Unfortunately many cleansers do just that. If a cleanser is too harsh, it could be doing more damage than good. A good cleanser sets the skin up for success when used in conjunction with your other products.  Environ cleansers are effective at cleaning the skin while maintaining the look and feel of hydrated, healthy skin. The soft, gentle, and luxurious feel of the Environ cleansers will make you re-think everything you have previously believed about skin cleansers.
Tone
A great toner should work in synergy with your other products to assist with the appearance of better-hydrated, healthy-looking, even-toned skin. For some, the concept of a toner is outdated. They may think that a toner is flat out unnecessary or even "full of alcohol." Environ's AVST Hydrating Toner, for example, is anything but. Their toners are expertly formulated; they are silky-feeling hydrators that help revive the look of your skin and prep the skin perfectly for your Environ moisturizer. Use your Environ Toner after cleansing and just before you use your Cosmetic Roller.
Moisturize
Environ's unique step-up system of Vitamin A and C moisturizers ensures a gentle, yet effective vitamin-delivery system for any skin type. Environ recommends starting off with the lowest level of Vitamin A serum first so that you can gradually introduce Vitamin A back to the skin and likely avoid an irritating reaction. Once the skin is used to that level, you may graduate to the next level. Vitamin A, in combination with other topical vitamins, antioxidants, peptides, and growth factors are important to keeping the skin looking healthy throughout the life span.
Protect
Using a broad spectrum SPF (sun protection factor) cream every day is absolutely vital to maintaining healthy-looking skin throughout your life. You should never leave the house without this protective step. UVA and UVB rays penetrate through windows, glasses, and are nearly impossible to avoid. We know sunshine is good when it helps us convert Vitamin D in our bodies, but leaving the skin unprotected is a fast way to looking more aged and leaves you more vulnerable to developing melanoma. The "protection" step is a personal one for Environ founder, Dr. Des Fernandes, because early in his career, he tragically lost two of his patients in their early 20s, to skin cancer. The shocking events inspired him to create effective skin care based on sun protection, and we know from years of research that we should heed this piece of advice: Use SPF daily, rain or shine.
Stick To Your Routine
Any esthetician or dermatologist will tell you that professional treatments are great, but daily home care is essential to maintaining lovely-looking skin. Just remember your simple 4 steps: Cleanse, Tone, Moisturize, and Protect! Daily routines are the path to long-term success in any area of life. You can apply the daily-routine mindset to many areas of life such as finances, exercise, or nutrition. For skin care, the daily mentality works very well, as maintaining healthy skin is a
daily
labor of love not weekly or monthly. 
Be Flexible
Anticipate changes in your schedule and plan accordingly. Adaptability is a trait in highly successful people, and one thing is for sure: change. Just don't let changes in your schedule affect your daily skin care regimen. You want to look and feel as good (if not better) on the road as you do in your home town. Environ's mini-travel pack version of the Ionzyme C-Quence line is perfect for any 7-day trip.
Share Your Knowledge With A Friend
Any teacher in the house will know that trying to teach or explain a concept to another person is a great way to test your own knowledge. Skin care is not only important for those who care about maintaining healthy-looking skin but can save lives when it comes to protecting the skin from the effects of environmental damage such as sun exposure. 2016 is your year, and at Environ, they want to help you and your loved ones achieve any skin care goals you may have. Spread the good word!
Happy 2016!
For more of the latest skin care education and tips, follow us:
Environ Skin Care (US) on Facebook
@Environus_dermaconcepts Instagram
@Environ US Twitter
---
Share this post
---
---