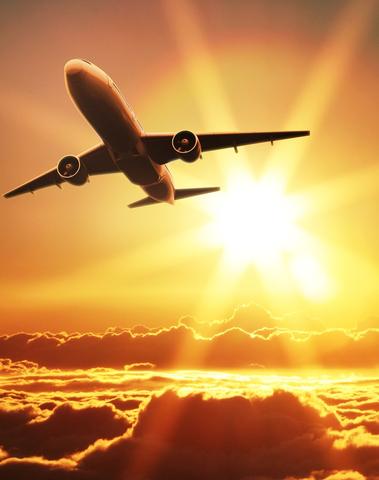 Jet Setter Inspired Skin Care
Posted by Catherine Christianson on
 'Tis the season for party planning, decorating, buying gifts, and of course, traveling to see your loved ones. Unfortunately, the airways are the perfect environment to cause dehydrated skin, puffiness, headaches, and more unwanted side effects. Yikes! Luckily, Environ products exist to effectively care for skin in even the harshest conditions.
Pre-flight Preparation
Airplanes' humidity levels must be kept low- very low.
 Humidity levels on land will usually exceed 50%, but on a plane, levels are kept around 10-20%. To put that in perspective, the Sahara desert's humidity levels are usually measured around 25%! The results of this super dry air include dehydration, dried mucous membranes, dry skin, and fatigue.
Solution: 
Prior to leaving for the airport, use your Environ hydrating cleanser and toner prior to applying your Vitamin A moisturizer & SPF as usual. Lastly, strategically apply your Environ Hydrating Oil Capsules, and don't forget to bring one with you for mid-flight application. The luxurious capsules contain vitamins A, C, E, rosemary leaf extract, and super hydrator, beta sitosterol. Hydrating Oil Capsules were formulated specifically to protect the skin in dry environments. Pre-flight, make sure to drink more water than usual, and skip caffeine or alcohol intake before flying. When you get to the airport, make sure you pick up a bottle of water before boarding.
Mid-Flight Strategies
Regardless of the time of your flight, flying is tiring!
Solution: 
To combat jetlag, try to control the sunlight exposure as best as you can. During your flight, first apply your Environ C-Quence Eye Gel, and then wear a plush eye mask to sleep with which will help shield the delicate eye area from UV rays in addition to the plane's dry air. The eye gels will also combat under eye puffiness that may occur as the result of unusual pressure levels and decreased blood circulation.
Apply your favorite lip balm and Environ's Hand & Nail Cream to protect the lip, hand, and nail areas from the cold, dry air.  Plus, the luxurious cream smells naturally lovely but not overwhelming, so there is no risk of disrupting a seatmate.
Dry air can result in increased oil production to compensate for the lack of humidity. This may result in a mid-flight breakout.
Solution: 
Keeping your skin moisturized is the best preventative measure for reducing the likelihood of a mid-flight breakout. Your prescribed Vitamin A moisturizer will make the skin more comfortable mid-flight, but a must-have traveling option is Environ's Colostrum Gel. Both hydrating and reparative, the gel contains nutrient-dense ingredients like Vitamin C, E, Colostrum, and calming lavender oil.
Sitting in one place is not only frustrating, but it is not good for your body's circulation either.
Solution: 
Try to do some in-seat stretching (without bumping your neighbor). For a plane ride, progressive muscle relaxation techniques are perfect. This is where you tense and then release each muscle group one at a time keeping the muscle itself in a static position. This method of muscle movement is great for toning, keeps your blood circulation moving efficiently, and helps with relaxation. Also, you won't look funny, because it won't look like you're moving at all.
Post-Flight Revival
Once you are able to relax in your hotel room, revive your skin with the basic Environ regimen: Cleanse, Tone, Moisturize, & Protect. After cleansing and toning, give your skin a brightening boost with Environ's Ionzyme C-Quence Energizing Masque, a potent Vitamin C serum mask that is easy to travel with and instantly gives the skin the appearance of a youthful, luminous glow. You will know the peel is fresh because you will pour the Vitamin C (ascorbic acid) powder into the vial containing a salicylic acid solution just before application. The serum will remain active for about 10 days, so you can use this every night until it is gone. To use, apply the serum in a thin layer, massage into the skin, and leave on as long as possible (even overnight). To remove, gently wipe off with a warm cloth. Follow with your Environ Vitamin A moisturizer and eye gel. Voila!
You are a now a jet-setter expert and ready for any vacation adventures that you may endeavor on.
Safe Travels & Happy Holidays!
Next Time: "New Year, New You"
To find out what your customized Environ Skin Care regimen looks like, do not hesitate to reach out to find your closest Environ stockist by calling 877-337-6227 or contacting
info@dermaconcepts.com
.
Follow us!
Environ Skin Care (US) on Facebook
@Environus_dermaconcepts- Instagram
@Environ US- Twitter
---
Share this post
---
---