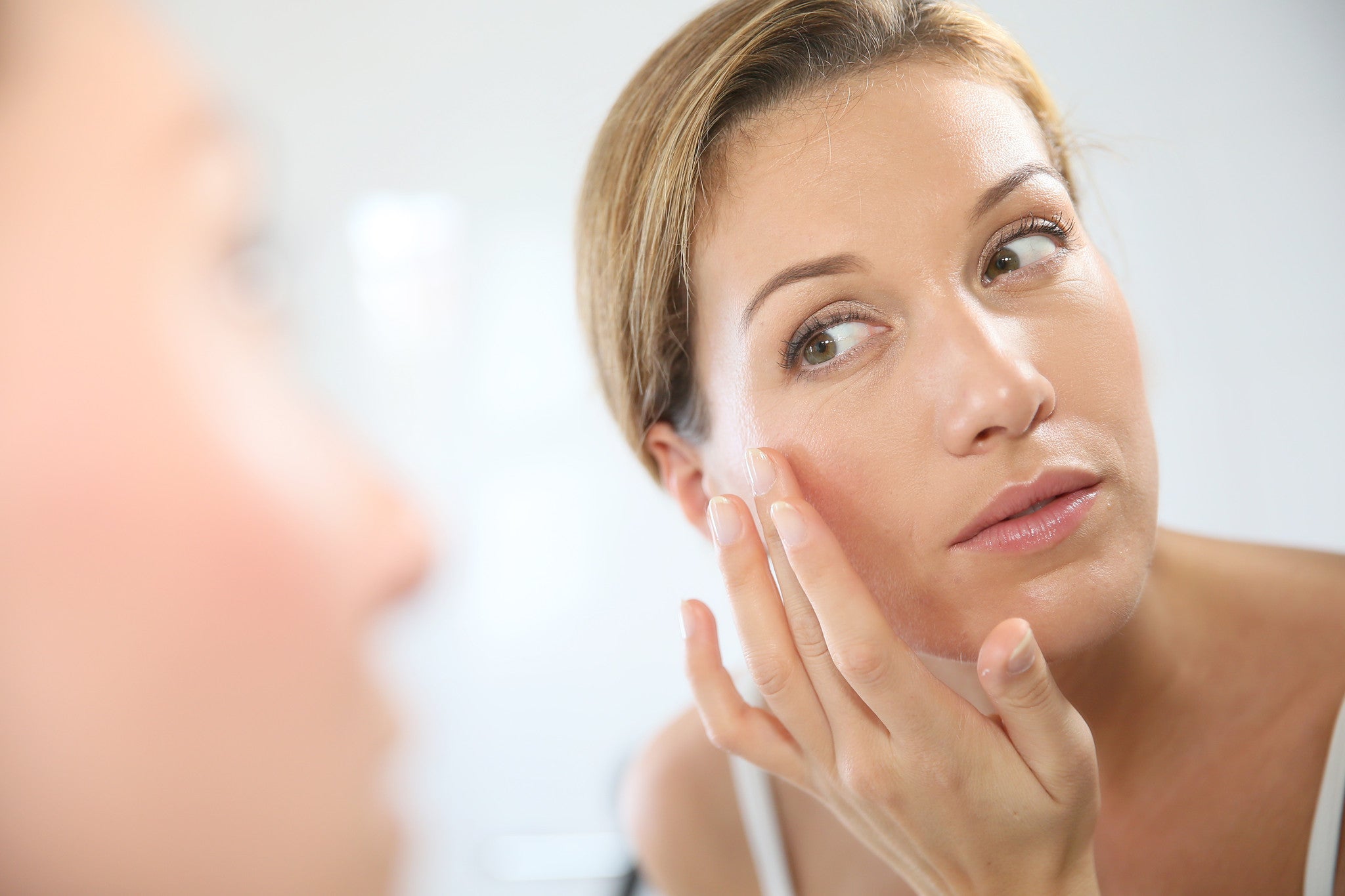 What's Your Skin Concern?
Posted by Jen Conroy on
These may be some of the first questions that you are asked by your dermatologist, and they could be the most important. Reading between the lines of your skin's behaviors is what any good skin therapist knows how to do. It is best to stay well informed on what various skin behaviors mean before heading to your next appointment. We'll delve into some common skincare myths such as dry vs. dehydrated skin, how young you should start anti-aging practices and why caring for the skin seems complicated but is truly simple at the heart of it.
Dry (lacking oil)
Dry and dehydrated skin are often mixed up. Dry skin is where the oil that usually rests on the surface of the skin making up what is called an 'acid mantle.' If the acid mantle is not strong, the skin's natural water retention levels will suffer, resulting in dry skin, as evidenced by the appearance of rough, flakey skin and even the look of premature aging.
Dehydrated
Dehydrated skin on the other hand is lacking in water content to begin with. In other words, the skin's acid mantle may be in tact, but the water levels in the skin are lower than average. Dehydrated skin is characterized by fine lines and wrinkles and is easily alleviated with use of hydration boosting products and ingredients like hyaluronic acid, Vitamin E, peptides and so forth. Environ's daily moisturizers are full of skin-loving hydrating ingredients such as Vitamins A, C, E, peptides, antioxidants, and growth factors. But if this is not enough hydration for an individual, there are some helpful booster products includuing Hydrating Oil Capsules, Super Moisturizer + as well as Focus Hydrating Serum.
Aging
As we all age, the epidermal layer of the skin becomes thinner, making fine lines and wrinkles more apparent and easily formable. Pigmentation and sunspots are sometimes apparent in addition to volume loss or dullness. Lastly, oil production often decreases with age. All areas of the face can demonstrate signs of aging, however, these signs tend to first develop around the eyes and sides of the mouth. Addressing these concerns should be a daily effort comprised of powerful skin loving ingredients and certain targeted treatments, depending on the individual's concerns. Use of daily sunscreen and a concentrated Vitamin A-based serum will be an integral part of the skin care regimen for this skin concern. Find more products for aging skin concern here.
Redness
Redness of the skin can be caused by internal or external factors such as too much sun exposure or stress. To address redness, a daily gentle cleansing routine is essential in addition to a proper daily moisturizer to help even out the look of uneven skin tone and over time improve the overall appearance of even skin tone.
Occasional Breakouts And Congestion
Not exfoliating regularly enough is a very common reason for the occasional break-out and congested skin concern. Environ's Alpha Hydroxy Cream, Alpha Hydroxy Gel, Revival Masque or the At Home Peel Kit can all address this common need effortlessly with the simple addition of one step to the daily skin care routine.
Problematic Skin
The bane of every prepubescent teen and even some adult's life, acne or problematic skin is a common and stress-inducing skin concern for many. An overproduction of male hormones, sebum and the subsequent clogging of pores due to this overproduction is the reason that leads to breakouts, inflammation and other visible characteristics of this skin concern. Vitamin A is the most researched skin care ingredient associated with helping with the look of problematic skin. A skin expert can recommend a timetable for the specific type of Vitamin A products to start out on as well as when to graduate to other products and necessary treatments.
Not everyone's skin will be characterized by only one concern, and that is why proper skin care is so personal. Dermatologists and skin professionals can help customize and proper regimen to address any and all concerns that an individual may have. What can be predicted is that they will recommend daily use of sunscreen as well as using effective at-home products regularly.
Though there are countless choices out there in the skincare industry, a consistent, high-quality product line and a strong brand with proven results will get you closer to the results that you're looking for. Read more about "The Correct Order to Apply Skin Care Products"
Don't forget to subscribe to the blog for the latest skin care tips and trends! Follow Environ Skin Care on Facebook, @EnvironSkinCareUS on Instagram and @Environ_USA on Twitter.
Get in touch
here
if you're a skin care professional who would like more information about adopting Environ Skin Care for your office.
---
Share this post
---
---