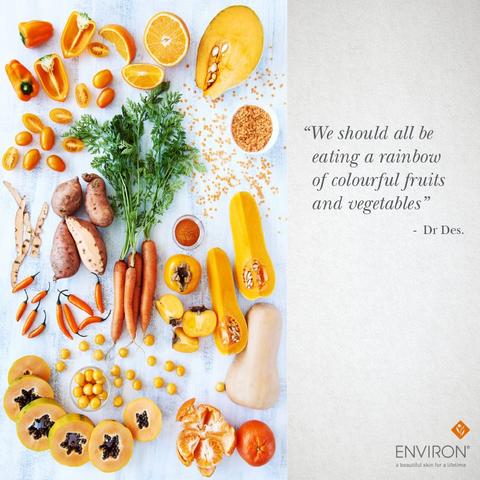 12 Foods for a Healthy-Looking Skin Diet
Posted by Catherine Christianson on
Diet is a huge part of the healthy-looking skin equation, while the other part is an effective skin care routine using products comprised of Vitamins A, C, E, antioxidants, peptides and growth factors. The skin is the last organ in the body to reap the benefits of ingested vitamins and minerals, thus there is the need for daily, topical, vitamin-rich skin care products. To keep your body functioning optimally and skin looking its best, we've researched some of the most nutrient-rich food for you to add to your grocery list:
Seafood
Salmon, tuna, oysters, crab, and shrimp are full of beneficial vitamins and minerals. The most plentiful are
omega 3- fatty acids
, Vitamins E, B-3, B-12, B-6, protein, and minerals iron, copper, zinc, and manganese. The only caveat is to make sure the seafood is fresh and coming from a clean source- difficult to find if you live far from the ocean.
Nuts
Nuts & seeds such as sunflower seeds, walnuts, chia seeds, flax seeds & almonds (from which mandelic acid is derived) are packed with plentiful, skin-loving nutrients. Not to mention, nuts are perfect for on-the-go lifestyles and adding to smoothies. The key nutrients in nuts & seeds include high levels of
omega-3 fatty acids, amino acids
like tryptophan, Vitamin B-6, calcium, protein, selenium, and nutrient-absorption helper- manganese. All of the above, especially the omega-3 fatty acids contribute to the skin's appearance of full, healthy-looking skin.
Leafy Greens, Fresh Herbs, & Spices
Leafy greens are one of the best vegetables you can add to your diet if you feel like you are not getting enough nutrients. Greens like spinach, kale, collard greens, and red leaf lettuce are all full of vitamins such as
Vitamins A
, K, B-9/folate, calcium, manganese, iron and copper. Spinach is delicious as a sautéed side or easy to throw into blended smoothie. All of the nutritional elements found in leafy greens, herbs, and spices are necessary ingredients for bodily health in addition to the appearance of healthy-looking skin.
Green Tea
For about 4700 years, green tea leaves have long been used in Japan for their long-held belief toward health. One of the elements examined in the green tea are called polyphenols, which have been found to promote multiple health benefits. Specific types of
antioxidants known as catechins
have been studied extensively for their possible role in health. One of the catechins, abbreviated EGCg for "epigallocatechin gallate," has shaken the science world with its findings of properties that fight cancer*. The EGCg catechins makes up approximately 60% of all the catechins in Matcha Green Tea and are reportedly about a hundred-fold more than that of other teas. You can order green tea Matcha powder online; just do your research on the seller first if you buy the product online.
*Cooper, Raymond. "Green Tea And Theanine: Health Benefits." International Journal Of Food Sciences & Nutrition 63.(2012): 90-97. Academic Search Complete. Web. 24 June 2015.
Papaya & Bell Peppers
Although many would think the common citrus fruits like oranges or lemons would have the highest Vitamin C values, the first is the papaya fruit and second is the red bell pepper, though many fruits and vegetables contain this amazing nutrient and antioxidant.
Vitamin C
is important for the body's ability to produce serotonin, an invaluable hormone that helps with the nervous system and other major body systems. As for the skin, Vitamin C helps contribute to the appearance of firmer and brighter-looking skin. Vitamin C is necessary for the production of collagen, protein fibers that contribute to the appearance of full, firm-looking skin. Vitamin C is probably best known for its antioxidant benefits. Antioxidants fight free radicals, unstable cells in the body that contribute to early cell deaths and the development of wrinkles and lines. The Environ Energising Masque employs a highly-effective form of Vitamin C- ascorbic acid in addition to salicylic acid. The result of using the mask is an immediate glowing, youthful look.
Sweet Potato & Carrots
These two foods contain the plant form of
Vitamin A
- carotenoids. Vitamin A is one of the most highly researched nutrients for its role in so many bodily functions as well as in the prevention of diseases and conditions. In terms of skin care, we know that Vitamin A is capable of improving the look of wrinkles, firmness, and discoloration of the skin. Research has shown that Vitamin A is a powerful antioxidant with high anti-cancer as well as cardiovascular benefits. Sweet potatoes are great substitutions for white potatoes and starches, not to mention they are delicious.
Tofu
Tofu is a source of protein and is especially important for people who choose not to eat meat. Tofu is rich in
calcium
, manganese, copper, selenium, phosphorus and omega 3-fatty acids. Tofu's sky-high nutritional value makes it a great cancer-fighting food as well as a supporter of bone health. Sources of protein are great for the skin's firm, full appearance, and overall the nutritional value of tofu makes it a superfood to remember to add to your grocery list. Other nutrient-dense protein options include lean beef, lamb, lentils, turkey, and eggs.
Avocado
 Avocados are a great source of
healthy fats
(aka monosaturated, heart and brain supporting fats) as well as a plethora of additional vitamins, minerals, amino acids, and plant phytonutrients such as phytosterols, carotenoids (vitamin A!) and flavonoids. Avocados are also a good source of pantothenic acid, dietary fiber, vitamin K, copper, folate, vitamin B6, potassium, vitamin E, and vitamin C. I add these to my eggs in the morning or eat half of one for an afternoon snack. They also serve as great substitutes for mayonnaise, as a topping on salads, and in guacamole. Yum! Vitamin E is an important hydrating component for skin care as well. That is why Environ AVST Moisturizers and C-Quence serums all contain Vitamins A, C, and E as part of their fundamental formulas. The vitamins are most effective when used in conjunction with one another.
 Vitamins & Skin Care
The only food group you will NOT find on my list is anything that is overly processed including refined carbohydrates or items containing high fructose corn syrup. The chemicals in processed junk foods are doing nothing for you; in fact they're probably making it harder for your body to obtain the good nutrients from the foods you eat. Maintaining a nutrient rich diet is comprised of the combination of foods you eat every single day, and includes strict standards for enforcing which food groups you stay away from.
Remember that maintaining healthy-looking skin, as well as healthy eating, must be a lifestyle. A combination of a healthy diet, oral vitamin supplementation, and a research-backed topical skincare line will ensure that you are helping to take a complete approach to a wellness-based lifestyle and beautiful-looking skin. Environ uses the most effective combination of vitamins available: Vitamins A, C, E, additional antioxidants, growth factors, and peptides- all essential ingredients for a healthy-looking skin recipe. 
Follow Environ_USA on Twitter and Environus_dermaconcepts on Instagram for additional skin care tips and Environ updates.
Next: "Wedding Day Skin Care Countdown"
---
Share this post
---
---