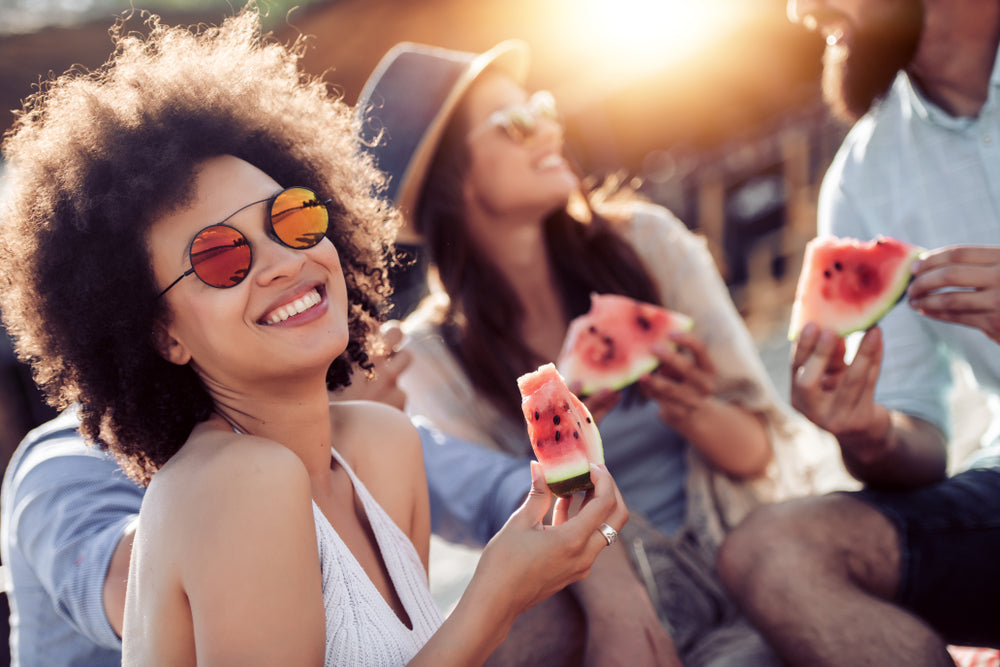 Can Your Diet Boost Your Skin's Health?
Posted by Jen Conroy on
Yes, as a matter of fact, it can! Certain foods can help boost your skin's natural ability to fend off sun damage, helping to bolster your skin's health, even staving off wrinkles. In addition to wearing SPF 30 sunscreen every day, here's a look at the top edible skin-protectors, according to Healthline.
Blueberries
High in antioxidants, blueberries help to combat free radical damage from the sun and stress. These little blue treats are also high in vitamin C, which helps to prevent wrinkles from forming.
Watermelon
Believe it or not, watermelon contains far more lycopene than tomatoes! Lycopene is the antioxidant that makes tomatoes red. We love lycopene because it absorbs both UVA and UVB radiation. Bottom line: eating watermelon regularly may help to boost your skin's ability to thwart sun damage!

Nuts & Seeds
What do walnuts, hemp seeds, chia seeds, and flax all have in common? Omega-3 fatty acids! This clean source of fat works wonders for your skin, packed with soothing anti-inflammatory properties while also helping to preserve your skin's integrity. Your body can't make omega-3s, which is why consuming foods rich in this skin-loving fatty acid is so essential.

Carrots
Carrots aren't just good for your vision. Carrots are rich in beta carotene, which our bodies convert into vitamin A, a nutrient that's essential for skin health.

Leafy Greens
Other foods high in beta carotene and antioxidants include kale, spinach. What's more, leafy greens are high in lutein and zeaxanthin, two antioxidants which have been found to protect skin against wrinkling, sun damage, and skin cancer.

While eating a balanced diet is essential to the health of your skin and body, diet alone is not a substitute for the regular application of a broad spectrum SPF 30 sunscreen. Discover your optimal skin care regimen today by calling 877.337.6227 to find an Environ Skin Care stockist near you.
---
Share this post
---
---