< Return to full Product Kits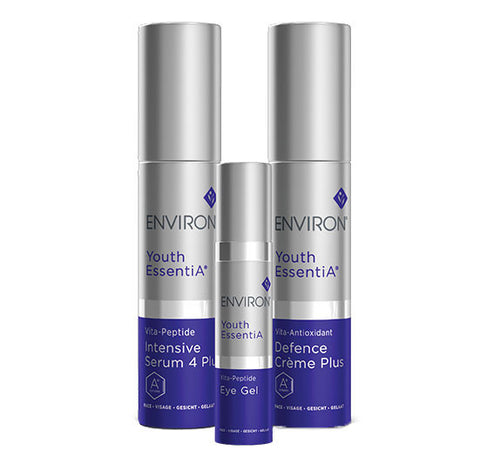 C-Quence Kit #4 Plus
Designed for a mature skin showing the signs of photo-damage and aging, the C-Quence track kits will quickly acclimate your skin to the more advanced Environ Vitamin A step-up system. C-Quence #4 Plus Kit includes Vita-Peptide Intensive Serum 4 Plus and Vita-Antioxidant Defence Crème Plus.
Vita-Peptide Intensive Serum 4 Plus contains the highest concentration of vitamins A and C in the range and is the fifth level in the Youth EssentiA range step-up system.  This technologically advanced product contains a combination of ingredients including Matrixyl® 3000 and Dermaxyl® that work in synergy to support and maintain a youthful appearance and target the visible signs of aging.
Also included is the Vita-Peptide Eye Gel, a technologically advance gel that contains A & C, antioxidants and specially selected peptides to assist in hydrating the skin, improving the appearance of fine lines and providing daily defense against the harsh environmental influences that promote aging. It is recommended to use the highest step comfortable for the best in skin care.
Find A Professional
Become A Partner