Professional Range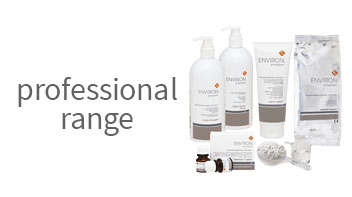 The Environ professional range is a treatment orientated range that was scientifically formulated for trained skin care professionals to promote and support healthier looking skin. These specialised products are used to perform the world renowned Environ facial treatments and the specialised Hand and Foot treatment are also performed using these superior products.
The Environ professional treatments are intended to introduce and support the correct way of using the home skin care regimes while augmenting their effects.
To ensure that the most suitable treatment program is established, skin care professionals are advised to follow the professional range step-up system. For the best results, a course of 12-24 treatments is recommended over a period of 3 to 6 months.
Once opened, use within 10-12 weeks to ensure optimal ingredient activity unless otherwise specified. Can be used at any age to treat male and female clients.